2002 Celebration
Notice: Use of this site constitutes your acceptance of these Terms of Use.
la République des Marivelles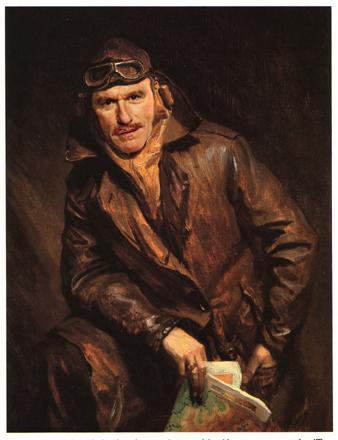 A message from the President of the Republic

Guillaume "Wild Bill"
Boniface Bonchancelouis
to all Gold Monkiacs!
Welcome to the temporary English language homepage* of the Republic of the Marivelles, which is being graciously hosted by Trans-Global Enterprises.
One week ago, our nation--and the rest of the world-- celebrated the twentieth anniversary of the first showing of Tales of the Gold Monkey on September 22, 1982.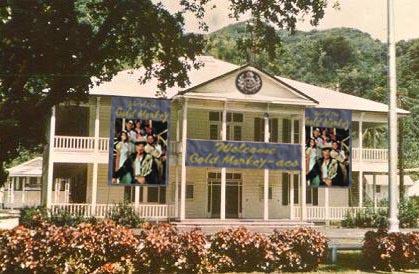 Despite exhaustive planning** only a relative handful of Gold Monkiacs actually made it to our celebration. This was due to the fact that the aircraft chartered to bring most of our American visitors was delayed in the United States for "enhanced security measures", which we understand were required when the destination "Boragora" was confused with "Tora Bora" in Afghanistan.
Despite the disappointing loss of these visitors (and their hard currency), the spirits of my people were raised by the arrival on September 20 of a man identifying himself as Donald P. Bellisario, the creative genius behind TOTGM and many other beloved programs. Of course, upon learning of his arrival in our République, its humble President, me, immediately offered this M. "Bellisario" the proverbial key to the République and asked him to serve as honorary marshall of our parade on September 22.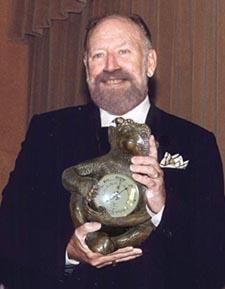 A special ceremony was also arranged at which this M. "Bellisario" was presented with one of the République's highest awards, the Presidential Gold Monkey Bar-ometer of Freedom. (See photograph to the right.) In his acceptance speech, M. "Bellisario" shared his plans for a new television series to be filmed in the République. He stated that it would focus on a U.S. Army J.A.G. officer who retires to open a law clinic somewhere in the Pacific.
In his speech, M. "Bellisario" also hinted that other recurring roles in the series might include the following:
A former military pilot, whose mechanic has either a substance abuse problem or red hair;

The owner of the bar adjacent to the law clinic;

A singer at the bar who may actually be the C.I.A. station chief or, perhaps, a local crime boss;

A "scientist" who has invented a "time machine" or, perhaps, discovered a "dimensional threshhold"; and

A "high-ranking government official".
After he left our République, it came as quite a shock to all of us that the man calling himself "Donald P. Bellisario" was, in fact, an imposter. It came as even a bigger shock to those unfortunate persons who had given this imposter "earnest money" to audition for one of the recurring roles in his new series.
As the humble President of our our République, I am happy to report that, despite rumors to the contrary, no public funds were given to this impostor by any high-ranking government official. I am also happy to report that the low-ranking government official who did offer this imposter public funds has been demoted and transferred to the island of Lagoda, permanently.
*Two months ago, counter-revolutionary hackers "trashed" the official English language internet presence of the Republic. Upon learning of the attack, my good friend Vince Ricardo, founder and Chairman of the Board of Trans-Global Enterprises, immediately made cyber-space available on its website to ensure that the world could maintain contact with our beautiful islands.

**As you know, we had encouraged the many American fans of that television series to share our celebration in person. To this end, I appointed my good friend Professor Klaus Werner Immerschreiben, Chairman of the Board of Monkey Bar-ometrics, to serve as the Chairman of a special task force which arranged for a number of incentives for Americans visiting us last week:

a. Free transportation between Boragora and Jake Cutter International Airport on Saint Hubert in the Seiber Islands during the month of September 2002, using amphibious aircraft of the Marivellan Navy.

b. Reduced rates at hotels and pension on Boragora during the month of September 2002, as well as free accomodations at dormitories at the University of Boragora for those unable to afford regular arrangements.

c. Special discounts on food, entertainment, and souvenirs at many of Boragora's finest businesses.

d. Continuous showing of the series, uncut and in original order, at the newly renovated Bonchancelouis Center for the Performing Arts.

e. Waiving of all import and export duties, fees, and tariffs.

f. The first 50 Gold Monkiacs arriving in Borogora before September 22, 2002, would be permitted to purchase the new gold coins of the Republic at a significant discount.